---
Driver Buddy
je program za pametne Nokija mobilne telefone koji omogućava vozačima da izračunaju prosečnu potrošnju goriva i planiraju troškove putovanja.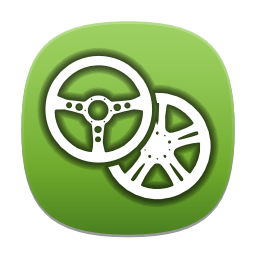 Korisničko sučelje programa je intuitivno i veoma jednostavno za upotrebu. Možete izračunati prosečnu potrošnju goriva unoseći pređeno rastojanje, količinu potrošenog goriva i cenu goriva po jedinici mere. Opciono se umesto pređenog rastojanja mogu uneti početno i krajnje stanje merača pređenog rastojanja, u cilju računanja ukupno pređenog rastojanja. Takođe možete da izračunate troškove putovanja određene dužine unoseći planiranu dužinu puta i prosečnu potrošnju goriva.
Driver Buddy se distribuira samo kao puna verzija; bez reklama, dodataka i drugih ograničenja. Potpuno je besplatan i može se preuzeti iz Ovi prodavnice.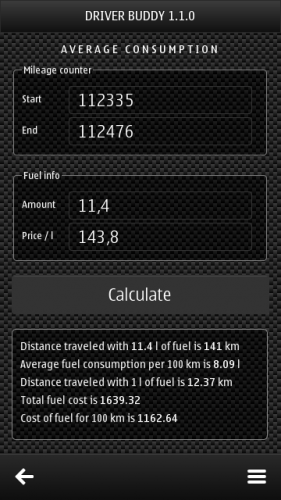 English
Driver Buddy can help drivers to calculate fuel consumption and planning trip expences.
Driver Buddy's user interface is intuitive and easy to use. You can calculate average consumption by entering traveled distance, fuel value and fuel cost. Optional, enter start and end state of odometer to calculate traveled route. You can also calculate cost of planned trip by entering distance and average fuel consumption.
Driver Buddy is distributed only as full version; without adds, nags or other limitations. It's fully free of charge and can be downloaded from Ovi Store.
We tested Driver Buddy on Nokia E7-00 and we notice bug, probably caused by WRT container. If values is entered via Alphanumeric or Numeric virtual keyboard, input box goes out of view until onscreen keyboard is closed. We advise you to use QWERTY onscreen or hardware keyboard.